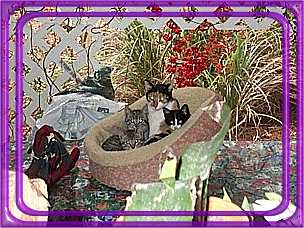 Ma & the kids in their bed.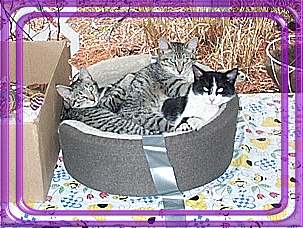 Left to right, Bonnie, Clyde, & Jesse is the tuxedo.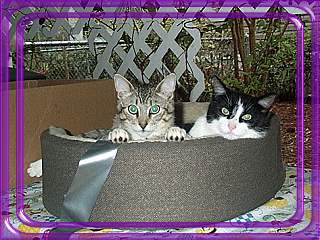 Big-eyed Clyde, & Jesse.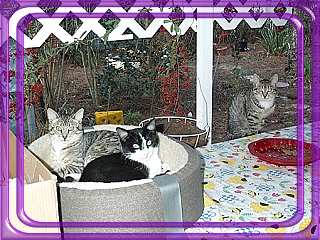 Clyde, Jesse, & Bonnie on the far right.
Jesse, Clyde, & Bonnie peeking around the corner.
Gentle eyes that see so much,
paws that have the quiet touch,
Purrs to signal "all is well"
and show more love than words could tell.
Graceful movements touched with pride,
a calming presence by our side
A friendship that takes time to grow
Small wonder why we love them so.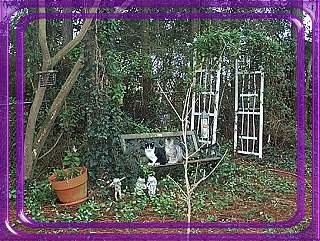 Jesse & Clyde on the bench.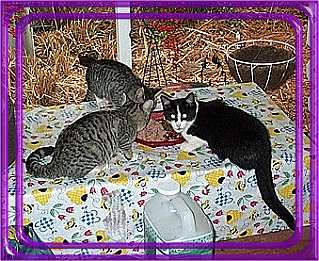 Chow time!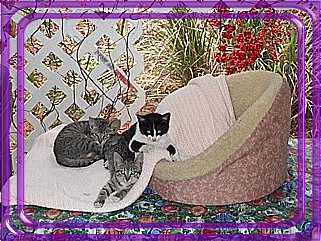 The James Gang lived here a year, until 2 neighbors who don't like cats, decided they would get rid of them, & trapped Jesse, & called animal control.But we are friends of animal control , & he notified us.They now have a wonderful home on a BIG farm, way out in the country, with the animal control officer.They are free, safe, & happy.
Auntie Raylene made this egg for baby Jesse.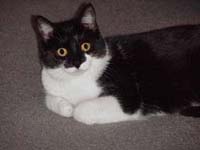 Beautiful Cookie, Jesse's wedwink.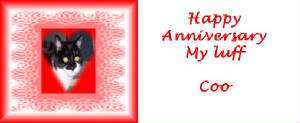 Clyde, my flower child, I miss him & his siblings.
Update.......
April 19,2006
The James Gang are doing great, happy & healthy, they will be 6 years old in Sept !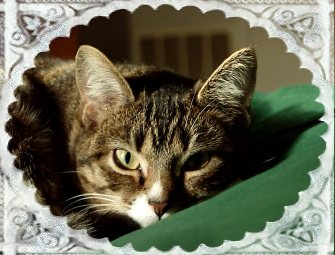 This is beautiful Hellion, Clyde's wedwink.
Update:Aug. 6, 2003, Talked to Walter, the Animal Control officer who adopted the James Gang, they are doing great, they come to his barn every night to eat, & during the day when he's working, they hang out at the farm next to his,where there is a lady with lots of cats, who loves them.They are living the good life, which they deserve.